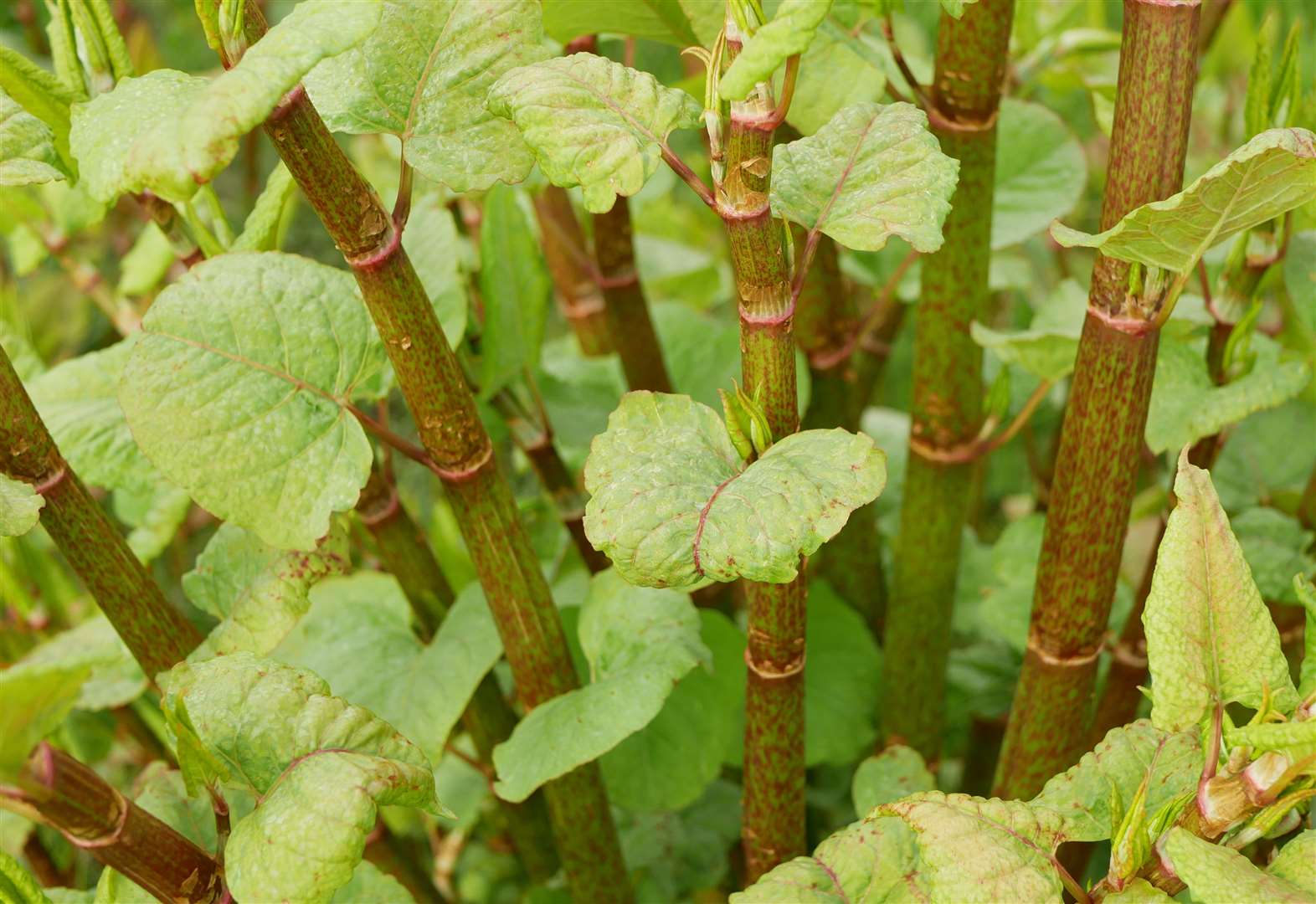 Garden plants you want to avoid, including Japanese knotweed, English ivy and giant hogweed
With warmer weather and summer on the horizon, now is the time for many of us to take a look at our gardens and green spaces and figure out how we can improve them for the warmer months. pleasures of the year.
But some garden plants and trees can not only damage your property, but also risk devaluing it – by targeting cracks in buildings and patios and pushing through them.
Invasive plants can prove problematic for homeowners, while those looking for a new home should, according to property experts, pay close attention to what's outside as well as inside the home. that you might want to buy.
Property surveyor Bradley McKenzie of the Stokemont Surveying Society talks about plants and trees to become aware of them and shares how difficult – and expensive – they could be to deal with.
1. Japanese knotweed
Removal Difficulty: High
Japanese knotweed is an invasive plant with red, bamboo-like shoots and shovel-shaped leaves. Newbury has recently been identified as a Japanese knotweed hotspot.
Reaching up to three meters in height in spring and summer, one of the worst qualities of this plant is that its roots can descend up to 20 meters underground, which risks affecting pipes, foundations, patios and pavements.
Because of the damage it can potentially cause, Japanese knotweed is listed as a property defect by RICS Homebuyer Reports, while more than 2,500 people search the internet every month for information on how to get rid of it. .
Bradley explains, "We strongly recommend that you seek professional help when removing them, as they recover easily from even the smallest remnants. If you prefer to do it yourself, pesticides would be the most effective method of killing these zombie-like plants.
2. Ivy
Removal Difficulty: Low
English or common ivy is both a super climber and a great producer. Described by the RHS as a 'dense, fast growing woody climber', although it can provide excellent cover, the horticultural society also acknowledges that its ability to grow rapidly and self cling means it risks to be a "nuisance" and that people may find it difficult to control. .
Although it can be quick and easy to dismantle, there is always a small risk that if it grows untamed, it will search for potential cracks in the wall, which could then damage the mortar or lead to dampness and even leaks.
English ivy can be removed with your hands by peeling it very carefully from the wall. It's also possible, suggests Bradley, to kill it at the root by cutting the ivy and letting it dry out and die.
3. Hogweed
Removal Difficulty: High
Similar to Japanese knotweed, giant hogweed is also invasive and has the ability to spread quickly. Related to cow parsley, it can reach 10 feet in height, but it's the one most gardeners, says the RHS, will want to remove.
Most easily spotted in June and July, the sap can cause severe skin burns, and since it is difficult to remove, it is not a species of plant owners would want to keep or encourage.
Stokemont investigators explain: "Widespread across the UK, particularly around rivers and ponds, its sap is phototoxic and can cause severe skin burns or scarring in sunlight.
"Although it does not cause direct damage to the property, buyers can still refuse to pay a higher price if present due to its high cost of removal – up to £15,000."
4. Poplars, willows and oaks
Removal Difficulty: Medium
Although most trees cause no damage, large trees like poplar, willow, and oak can be more of a problem if they grow too close to the property due to the damage their extensive roots can cause. The roots of poplars, for example, are shallow and fast growing, can spread up to 40 meters and absorb up to 1,000 liters of water and nutrients from the soil.
If a tree is some distance from your home or other buildings, it probably won't cause you any problems, but those closer to sewers, property, and other essential structures should be monitored more closely. It should be remembered that all these trees will naturally live for a very long time. Owners should therefore consider that it may be much more difficult to remove trees, if necessary, once the roots are thicker.
The age of the tree, the type of soil, its location and its proximity to other buildings should all be taken into account before deciding if it could cause you a problem and you can and should always seek advice. from an expert. Surveyor Bradley McKenzie warns: "If grown too close to your property, they could lead to further risk of foundation cracks, subsidence and other structural defects, which could cost you $5. 000 and £25,000 to fix."
5. Himalayan Balm
Removal Difficulty: Low
The Himalayan Balsam is a relative of the Busy Lizzie but this one can grow between two and three meters tall and is identified by its pink flowers seen in summer and early fall.
The Royal Horticultural Society describes it as a 'major weed problem' which will not only invade banks and wasteland but has also been known to invade garden spaces. The warning adds: "It grows rapidly and spreads rapidly, choking out other vegetation as it goes."
Himalayan balsam flowers produce large quantities of nectar, says the RHS, and are therefore very attractive to many species of bees, but despite this the damage they can do to other plants is considerable as they steal all the light, nutrients and water from the soil. . Although not physically harmful to people, the weed can have a significant ecological impact and should therefore be controlled if you find it in your garden, if not eradicated, to ensure that it does not not spread to neighboring properties or other land.
---
---