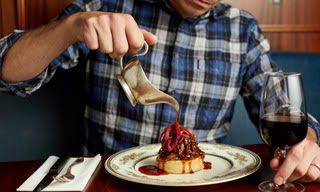 Blacklock to open fourth site in Covent Garden 2022
Blacklock has announced that he will be opening his fourth restaurant in February 2022 in the heart of the Covent Garden Theater.
He revealed that it was more than three years since the group last launched a new restaurant, with its flagship product on Soho's Great Windmill Street in 2015, followed by their City and Shoreditch restaurants in 2017 and 2018 respectively.
The restaurant, which will be the largest Blacklock to date, will be located under Bedford Street in a building that once housed the King's Coachmakers, seating 110 people.
According to the restaurant, owner Gordon Ker and his team have maintained their "absolute commitment" to sustainability, with their new site seeing lesser-known cuts of meat join the menu for the first time, including Denver and Tri-tip steaks. .
Blacklock also said sustainable wine will be on draft and served by the liter, with the menu keeping waste at an all-time high.
Covent Garden will use sustainably raised meat from longtime partner, farmer and butcher, Philip Warren, who manages and cares for the Blacklock herd in Cornwall, with a focus on regenerative agriculture.
Ker said: "It's been a tough time for everyone and so, over 3 years since the last opening of a Blacklock, we are bubbling with excitement to move forward, to grow. again and to open our fourth restaurant in the heart of Covent Garden.
"In particular, by creating fantastic new opportunities for our bright and loyal teams, as well as by introducing new dishes to our customers' menus. We can't wait to open up and be a part of the region, home to so many other fantastic restaurants, theaters and history.